Hull University Teaching Hospital Trust finished the installation of an 11,000 solar panel farm at Castle Hill Hospital in February 2022. The hospital site is now completely powered by its own solar energy, with the farm being labelled the 'field of dreams'.
The panels are now generating around 26MWh per day for May, with the expectation that this will almost double to 50MWh per day peak in the summer. At present, the solar field is generating an equivalent amount of power that is consumed daily by 3,250 average UK households.
Meeting the carbon neutral target by 2030
Alex Best, head of capital for the trust, commented that the installation of this solar field would be a major part of the trust's plan to be carbon neutral by 2030, while also saving the trust over a quarter of a million pounds every month:
"Not only does this represent a significant contribution towards our plan to become carbon neutral by 2030, but the project is also saving us a significant amount of money on hospital energy bills; approximately £250,000 to 300,000 every month."
He continued, "Back in November 2020 we were lucky enough to receive a grant from the Department for Business Energy and Industrial Strategy as part of its Public Sector Decarbonisation Scheme to enable us to embark on this ambitious solar panel installation project. We hope our patients and visitors will also see the value in what we're doing for them, and for generations to come".
Marc Beaumont, head of sustainability for the trust, highlighted the importance of self-generated electricity which isn't reliant on external pressures and demands.
"Now if you stop to consider what the solar panel project is actually contributing, it's incredible to think that the power used to deliver patients' radiotherapy treatment sessions, to support many life-saving surgical procedures, and to keep our intensive care unit running right now is all completely self-generated, green electricity."
Our solar field at Castle Hill Hospital is now generating enough power to meet the daytime running needs of the full hospital site; that's equivalent to the power consumed daily by 3250 average UK households! Read more👇
https://www.hey.nhs.uk/news/2022/05/09/castle-hill-hospital-now-completely-powered-by-its-own-solar-energy/
@GreenerNHS @OhYesNetZero #netzero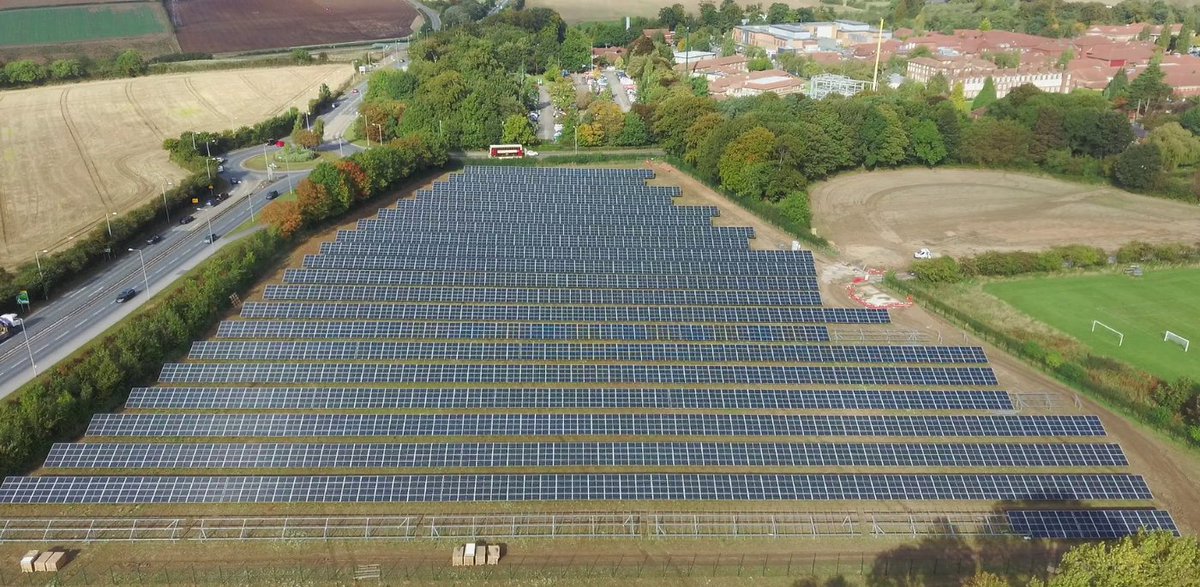 Originally tweeted by Hull University Teaching Hospitals NHS Trust (@HullHospitals) on 9 May 2022.
Part of a range of sustainable projects
Although the solar field is impressive in its own right, there are many significant projects underway at the Hull University Teaching Hospital Trust, with older lighting now replaced with LED lighting and packaging waste around much of the supply chain being targeted for reduction. Insulation of buildings and installing pumps to reduce heating costs also feature as part of the sustainable goals.
Chris Long, chief executive of the trust, also hopes that with staff pledges on sustainability, there could be a powerful and significant ripple effect into the larger community, with the large staff of around 10,000 people being inspired to take action.
The trust has also reduced its carbon emissions linked to Entonox, a pain-relieving gas used predominantly by women in labour, by a staggering 87 percent – and saved thousands of pounds per month as a result.
Only last week, the trust announced:
"Until recently, almost one fifth of all the carbon emissions generated by Hull University Teaching Hospitals NHS Trust, around 17 percent or 5,000 tonnes, have come from anaesthetic gases. Of these, around 4,000 tonnes have been generated through the use of Entonox as a pain-relieving gas for women giving birth in Hull Women and Children's Hospital."
Castle Hill patient care not compromised
Julia Chambers, a lead midwife for the trust, stated,
"Tests were carried out on labour ward and we found small leaks at both the bedhead panels and at the demand valves which ladies use to inhale gas. The bedhead seals were changed, and now we only plug the valves into the Entonox supply when they're in use, rather than having them connected all the time.

"There has been no change to the high quality of care we are able to offer women in labour, but just by looking at our practice and checking our gas supplies, we've been able to reduce the emissions created in maternity by a staggering 87 per cent."
Environmental and financial sense
Hull University Teaching Hospital Trust has noticed that making a few small changes can make a huge difference both in terms of carbon emissions and financial savings. From a business perspective, sustainable goals and targets are no longer consigned to being perceived as wishful 'lefty do-gooder' thinking, but make practical 'on the ground' sense.
Of course, if you name a project, the 'field of dreams', you cannot escape the inevitable phrase from the 1989 film – "If you build it, they will come". The trust wants to be seen as a climate and sustainability leader and a model for other trusts around the country and communities. It has demonstrated that with ambition, as well as a focus on daily practices, significant change can happen quickly.
Perhaps The Economics of Climate Change: The Stern Review, published in 2006, needs to be dusted off from the bookshelf and re-visited by other trusts and businesses. Its simple conclusion follows, "the evidence gathered by the Review leads to a simple conclusion: the benefits of strong and early action far outweigh the economic costs of not acting".
Before you go, Yorkshire Bylines needs your help. We are editorially and financially independent of Byline Times and our contributors, editors and production teams are all volunteers, supported by a core team at the Bylines Network. Our aim is simply to increase democratic participation through citizen journalism. Can you help us cover our costs by making a donation, however small?