When the Johnson variant of prime ministerial responsibility announced a delay to 'freedom day', few believed the spin that this was 'one last heave'. The government says its tests for relaxing lockdown depend on: vaccine rollout to under 40s; vaccinated people not requiring hospitalisation if they contract covid; rising infections kept low enough to not overwhelm the NHS; and no new variants of concern appearing.
But with our borders open (Heathrow processed 675,000 passengers in May) and infection rising in schools, it seems cavalier to pin all hope on vaccination. Particularly as allowing covid to continue to circulate in the community at these levels provides the perfect conditions for further mutations and variants to develop.
Super-spreader schools and covid
As any parent knows, kids spread coughs and colds. And covid. But that evidence escapes the prime minister. Acting fast to contain the Delta variant was too much to expect from a government content to watch kids starve until a footballer put the boot in.
Schools are vectors of infection. To pretend otherwise is disingenuous.
How many more times do we have to hear the feeble excuse that we do not have enough evidence on infection in schools and among children?
Patrick Vallance hinted as much when he said on 14 June that school holidays will help to suppress spread. So why hasn't there been an immediate rethink on transmission in school? On how and when they open? On mandatory masking and distancing, staggered school days, smaller classes, and more time off for staff and pupils alike? And isn't it time to look at what kind of clean air filtration systems our schools need to head off an autumn of covid?
All of that should have been prioritised last year, like it has been in Europe.
Safe schools in Germany: stopping the spread
Finland, Denmark and Germany have had among the lowest covid death rates in Europe.
In Germany, publicity over how infectious diseases like legionella and covid spread through poor aircon in planes and elsewhere led parents to ask when 'air-scrubbing filtration' in schools would be upgraded. They felt that more should be spent immediately on upgrading aircon systems to purify the air and scrub away viruses so that kids (who rapidly accepted masking up and social distancing) would no longer have to wear outdoor coats, sitting by open windows for a full 45 minutes in cold weather, before having a quick fresh air break.
Continuing herd immunity
So while people in Europe are relaxing lockdown and still wearing masks, Global Britain's leader lobs a few quid at 'school catch up classes', and tries to divert us from the lack of hygiene and containment measures – such as promptly curbing transmission using flight bans to and from hotspots like India.
This looks a lot like cover for continuing to pursue herd immunity while tinkering with a bit of covid containment.
Masking up, social distancing, hygiene, and effective ventilation are vital to preventing the spread. None were mentioned by the PM. Instead, in his press conference, he insisted that vaccination would stop thousands dying.
Chris Whitty stressed the importance of getting vaccinated. He said that delaying freedom day for a month would give the NHS more time to vaccinate more people and the under 40s. The government hopes this will mean that the current exponential growth in transmission will be halted. But there is a glaring gap: schools. And the approach implicitly assumes that transmission is greatest in over 18s.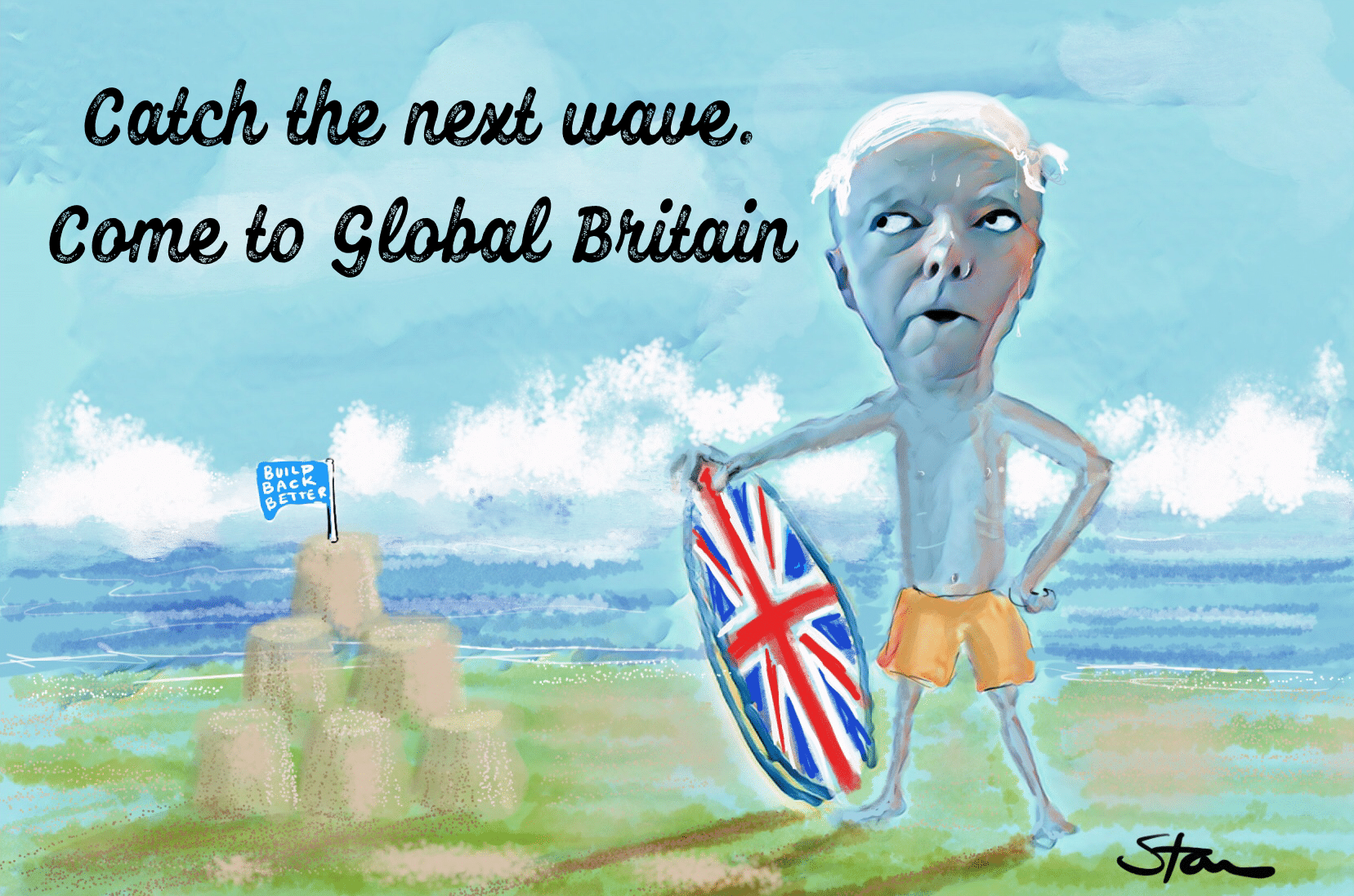 Let's play catch-the-virus-and-pass-it-on
Bringing the school holidays forward, or an extra half term holiday, would limit the opportunities for kids to contract and spread covid. Retaining masking and juggling the school day would also help. Closure would affect opening up the economy in the short term, but in the long term this would pay dividends in helping to avert a further spate of stop-start measures. It would mean furlough would need re-visiting immediately as well.
Short-termism doesn't work, as the UK has shown.
So, if your school has any outdoor space, wouldn't it be better for your child to be playing non-contact sports rather than sitting in stuffy classrooms playing catch-the-virus-and-pass-it-on?
Before the end of last month, unions and school leaders wrote to schools minister Gavin Williamson urging action, as covid infections forced the closure of an increasing number of schools before the bank holiday half term break.
The Guardian reported that data published by the Office for National Statistics showed a significant increase in the percentage of school staff testing positive for covid antibodies. This was interpreted as meaning that they were probably asymptomatic having been exposed to covid in schools between December and March, when schools fully reopened without adequate test and containment, unlike in Germany. Not until 8 March 2021 did the government 'recommend' and make rapid testing 'available' on a 'regular basis' to secondary schools when schools re-opened.
Contrast the UK response with Germany and Denmark
The UK has been late to introduce free masks and free tests for the public as well as for schools.
By contrast, in March 2020 Germany was testing secondary schools twice per week and extended that quickly to primary classes, and everyone, including young children, had to mask up. The German policy of isolating a class if just one person tested positive has helped to contain transmission.
Elsewhere in the EU, a year ago Denmark demonstrated how to respond rapidly to covid (swift lockdown) and then re-open schools safely. Whereas Britain opened its doors to some 70,000 people for the Cheltenham races in March last year, Denmark closed its borders, having shut schools on 11 March. Then, when they opened schools, they split classes, provided hand-sanitisers, insisted on everyone wearing masks, and provided lessons outdoors where possible.
Containing super-spreader Brits
Letting a highly transmissible covid variant run amok is a bad look. And it's bad for our collective health and the economy.
While EU countries are opening their borders to each other, they fear that super-spreader Brits will undo their own carefully timed relaxation of restrictions, successful vaccine rollout, and end of lockdowns. Our European neighbours don't want us even to visit our family relatives there, whom we haven't seen for close on two years.
The UK's enviable status as an island state swiftly vaccinating its people and rapidly sequencing covid genomes seems to have been squandered. Lives, trust, and willingness to learn from basic good hygiene practice have evaporated. Politicians who choose not to equip themselves with, and act on, medical expertise in a pandemic have much to answer for.