With gas prices reaching levels high enough to cause two fertiliser plants to shut down, sparking a crisis in the supply of carbon dioxide used in the food chain, it has emerged that the prime minister and the new communities secretary Michael Gove pledged in May 2016 that Brexit would deliver lower household gas bills for Brexit Britain.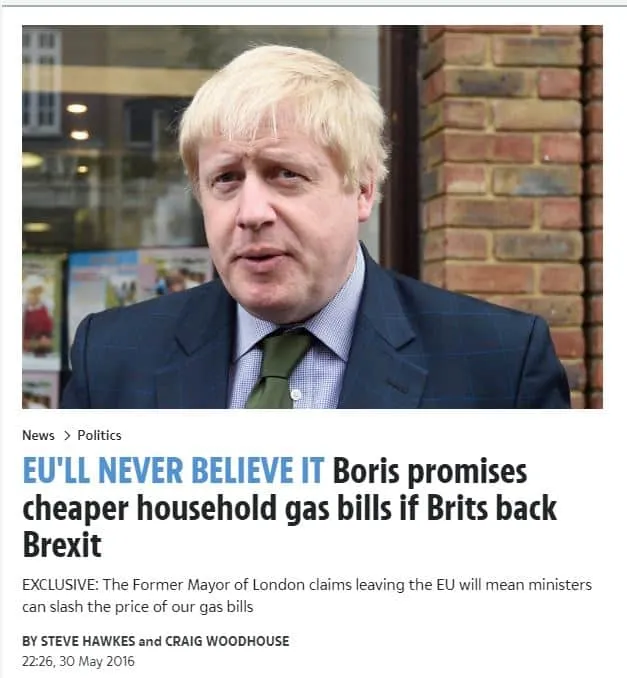 The fertiliser plants at Ince in Cheshire and Billingham on Teeside, run by the US company Central Farmers Fertilisers, have been forced to close due to the spike in gas prices that meant the plants were running at a loss. The operations produce ammonia, a by-product of which is CO2 or carbon dioxide. Some of the gas is needed to produce urea, while the excess is sold, including to food supply businesses where it is used in abattoirs and in packing.
CO2 shortage threatens food supplies
The closures immediate effect is to trigger a shortage of CO2. Modified Atmosphere Packaging (MAP) involves blanketing products in a gas or a mix of gases just before the pack is sealed. This keeps produce fresh for longer and extends the shelf life. CO2 is one of the gases used. In addition, it's also needed for the dry ice used to deliver frozen produce.
The result is likely to add to the sense of a growing post-Brexit crisis surrounding food supply chains, but will also have huge political implications for the government when gas prices feed through into consumer bills.
Figures appeared on Twitter showing British natural gas 'day-ahead' costs were around twice the level of the rest of Europe, with a spread of prices between €134 and €351 per megawatt, compared with €72–170 for France and Germany, for example.  The figures were from LCP Enact, a data analytics platform for the UK's short-term electricity markets.
The CEO of the US company CF Industries, Tony Will, has arrived in the UK for crisis talks with Business Secretary Kwasi Kwarteng in an attempt to restore the supply of CO2. CF Industries said it does not "have an estimate for when production will resume".
Today I have also met Tony Will in person, the global CEO of @CFIndustries – our largest domestic supplier of CO2.

We discussed the pressures the business is facing and explored possible ways forward to secure vital supplies, including to our food and energy industries (6/7)

— Kwasi Kwarteng (@KwasiKwarteng) September 19, 2021
Johnson and Gove promised lower energy bills in 2016
In May 2016, The Sun reported: "EU'LL NEVER BELIEVE IT Boris promises cheaper household gas bills if Brits back Brexit".
The report was based on a statement by Michael Gove, Boris Johnson and Gisela Stuart for The Sun – "Vote Leave to cut VAT on fuel".
The statement pledged that "working people will be better off if we leave the EU" and that "fuel bills will be lower for everyone".
"We believe working people will be better off if we leave the EU. The NHS will be stronger, class sizes smaller and taxes lower. We'll have more money to spend on our priorities, wages will be higher and fuel bills will be lower. Leaving the EU is a great opportunity for us to take back control of our borders, our economy and our democracy."
It claimed the "poorest households spend three times more of their income on household energy bills than the richest households spend. As long as we are in the EU, we are not allowed to cut this tax" – (5 percent VAT).
The trio said that by voting to leave the government would be able to scrap this "unfair and damaging tax. It isn't right that unelected bureaucrats in Brussels impose taxes on the poorest and elected British politicians can do nothing."
Johnson and Gove are now the two most powerful men in government and will be able to shave off 5 percent VAT, but it may not be noticeable in the cost of a fuel that has seen an increase in wholesale prices of 400 percent in the last two years.
About half of the UK's electricity is generated by gas-fired power stations, so the gas price shock may soon be felt in electricity prices too.
Why are gas prices rising?
CNBC are reporting that piped natural gas supplies from Russia have been slowed in recent weeks, after outgoing German chancellor Angela Merkel sought to ease long-running concerns about the nearly completed Nord Stream 2 pipeline, saying further sanctions may be imposed if Moscow used gas "as a weapon".
Analysts have suggested that Russia's state-owned gas company Gazprom, may be limiting its delivery of natural gas to Europe to support its case for starting flows via the Nord Stream 2 pipeline.